Alex Falb, O.D.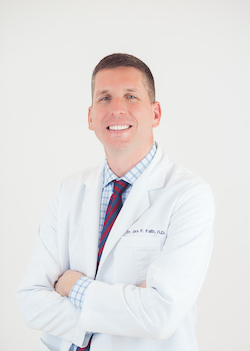 "It's not what you look at that matters but what you see."- Henry David Thoreau
A Tallahassee native, Alex Falb, O.D. is an optometric physician and a US Army veteran. From a young age, he knew he wanted to pursue a career in healthcare. Optometry provided him an opportunity to significantly impact the lives of patients of various ages and backgrounds in an ideal work environment. Diagnosing and treating eye conditions and improving his patient's vision through corrective eyewear improves their well-being and overall quality of life; this brings him a great sense of purpose and drives his passion for the job. Optometry is a dynamic field combining principles of medicine and anatomy with optics and the physics of light; these elements offer a fresh set of intellectual challenges that Dr.Falb looks forward to exploring daily.
OD: Nova Southeastern University College of Optometry
BS: Florida State University; Biological Sciences
Hobbies:
Dr. Falb loves spending time with his wife and two sons. In his spare time, he enjoys fishing, running, hiking, reading, and cheering on the Florida State Seminoles.
Current Professional Experiences:
Optometrist, The Focal Pointe, 2019- present
Staff Optometrist, Wakulla Correctional Facility 2022-present
Staff Optometrist, Lake City Correctional Facility 2021-present
Captain, US Army, Reserves
Previous Professional Experiences:
Staff Optometrist, Winn Army Community Hospital/ Fort Stewart, Georgia
Captain, US Army, Active Duty